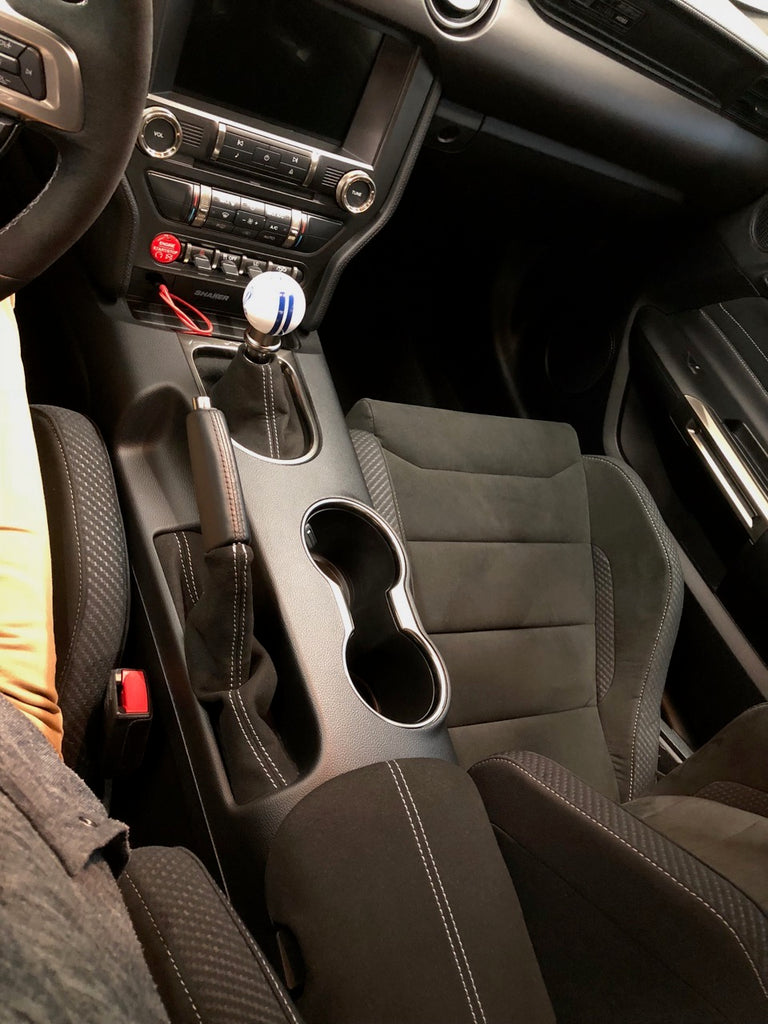 Were you bummed out when JPM Coachworks stopped making their alcantara interior pieces for the S550 Mustang? We were too. Fear not, we're coming to the rescue!!!
Shifteck is proud to offer a 3-piece boot set for the S550 Mustang. These are made by a GENUINE grandmother. Seriously. One of our employees told us that his grandmother used to make wedding dresses. Obviously, it takes a lot more skill to make wedding dresses than shift boots, so we asked her to make some interior parts and she was happy to help.

Available in Red Stitch or Grey Stitch, these boots are very high quality and are backed with the Shifteck NO QUESTIONS ASKED, lifetime warranty against defects.
Fits all 2015+ mustangs with manual transmission. Ecoboost, v6, GT, GT350, and GT350R. 
Kit will fit automatic cars, but shift boot will not fit. 
THIS IS GREY STITCH. IF YOU WANT RED STITCH, CLICK HERE: 
https://www.shifteck.com/products/shifteck-s550-interior-boot-set-red-or-grey-stitch?_pos=2&_sid=cd663e9a0&_ss=r
Fast Shipping
Priority shipping on all items that we sell.
Quality Products
Every Shifteck part is backed by a lifetime warranty.
Made in the USA
Shifteck is a USA manufacturer, not just a parts reseller.
Online Support
If you run into a problem, send us an email. We'll get you the help you need.
Corporate Address
Shifteck, LLC 
835 South Frank St
Sheridan, WY 82801
(Please note, we do not receive mail or packages to this address) 

Phone - 559-SHIFT-1-2 
(559-744-3812)

Email - Sales@Shifteck.com
Copyright © SHIFTECK All Right Reserved.