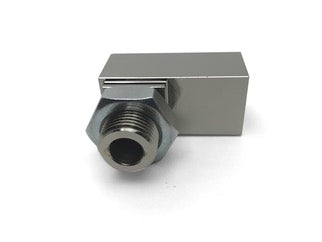 When an aftermarket high-flow catalytic converter is used on a late model car or the cats are removed, it's common to see a CEL (Check Engine Light) come and go. This CEL is usually backed by a fault code that indicates a failed cat. If your new cat is NEW, how could it have failed? Behind the scenes, the factory ECU is comparing the readings from a pair of oxygen sensors to measure the effectiveness of the cat. When a high-flow cat is used or the cats are removed, the exhaust gases are able to pass by the cat at a much faster rate, disrupting the readings. Our o2 sensor spacer retracts the second oxygen sensor from the direct flow of gases, restoring the balance that the ECU requires when using a high-flow cat or a cat delete.
Our New o2 Sensor Spacer is completely CNC machined from stainless steel. Installation is plug & play. Simply thread in our spacer, thread in the rear o2 sensor, and lock the spacer at the desired angle.
This product is not intended to and will not provide emissions compliance.
Emissions laws vary by state. Check local and federal laws before modifying your exhaust system.
Emissions compliance is the sole responsibility of the vehicle's owner.
NOTE: This part is not a 100% guarantee that the CEL will turn off. When ordering this item, you will receive 1 pair (2) spacers.
Fast Shipping
Priority shipping on all items that we sell.
Quality Products
Every Shifteck part is backed by a lifetime warranty.
Made in the USA
Shifteck is a USA manufacturer, not just a parts reseller.
Online Support
If you run into a problem, send us an email. We'll get you the help you need.
Corporate Address
Shifteck, LLC 
835 South Frank St
Sheridan, WY 82801
(Please note, we do not receive mail or packages to this address) 

Phone - 559-SHIFT-1-2 
(559-744-3812)

Email - Sales@Shifteck.com
Copyright © SHIFTECK All Right Reserved.