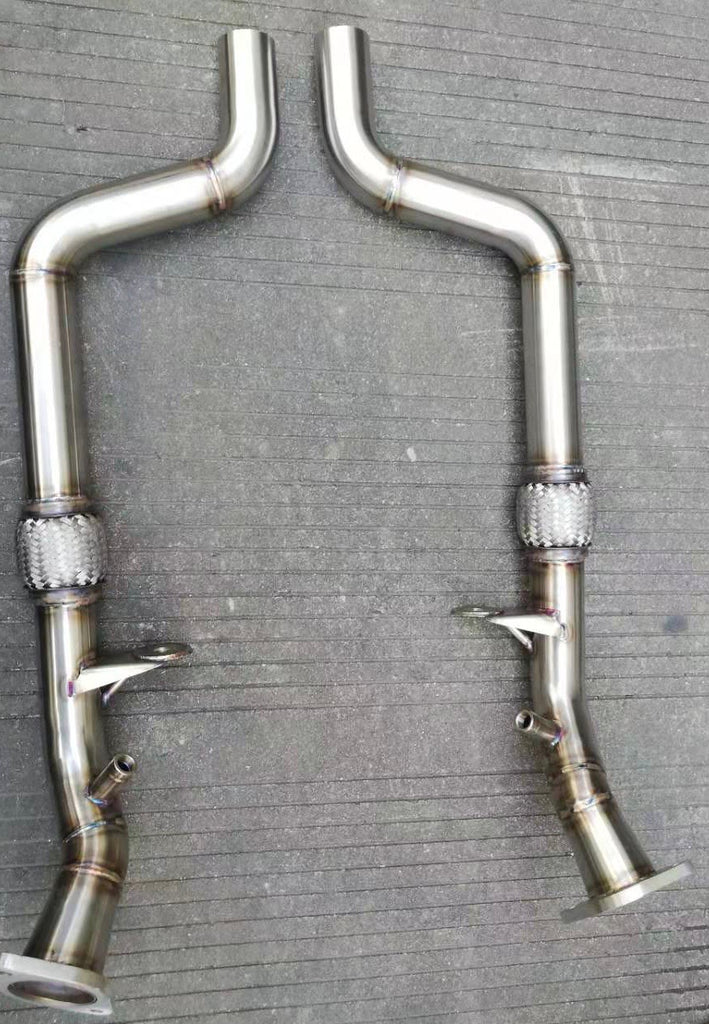 NOW AVAILABLE WITH RESONATORS
Shifteck Stainless Steel Off Road Mid Pipes for all 2015+ Shelby GT350 and GT350R Mustangs. Unlike some of our competitors that use cheap aluminized steel, which will quickly rust and become pitted, we have manufactured our Mid Pipes here in the USA out of high-quality stainless steel.
Shifteck offers this Off Road Mid Pipe kit that will easily replace the OEM Mid Pipes. Manufactured entirely out of T304 Stainless Steel, this Mid Pipe set will bolt-in with no permanent modification. The Mid Pipe kit will reuse the two factory clamps to connect to your X-pipe section.
We have integrated o2 spacers into the mid pipes to avoid CEL's, even when you choose not to tune your vehicle, and we are including replacement vibration dampeners with the kit.    
Shifteck has further designed these to bolt up directly to our extremely popular X-Pipe with resonator delete, found here: https://shifteck.myshopify.com/collections/ford-mustang/products/shifteck-resonator-delete-x-pipe-gt350


Features and Benefits:
- T304 Stainless Steel Construction
- Hardware installation kit included
- Aggressive Exhaust Note
- Easy Bolt-In Installation
- Much Lighter than OEM Mid Pipes
- Flex section in OEM location to reduce NVH
- Covered by Shifteck's NO QUESTIONS ASKED lifetime warranty against manufacturer's defects.

Listen to what it sounds like below:
*Does NOT require any welding or cutting.

*Our integrated spacers are to help avoid a CEL if you are installing these WITHOUT a tune. The holes in the midpipes are intentionally smaller than the o2 sensors to aid in proper flow characteristics and sensors may not thread in completely. Do not force them. You will need a 3/4-16 Jam Nut to secure them properly if you are not using o2 spacers. We do NOT guarantee the avoidance of a CEL. Adding external o2 spacers like our mustang o2 spacers may provide additional help against CELs, but installation of additional spacers will void your product warranty if they cause damage to the midpipes.

*We HIGHLY suggest that you ensure that your vibration dampeners are securely attached to the midpipes. Application of LocTite will help to prevent them falling off. The GT350 generates significant vibration that can cause the nuts to back out.

*Vibration dampeners are designed to help with street drivability. They should not be used on vehicles participating in racing or HPDE track activities.
*Off Road Mid Pipes are made to order and take up to 4 weeks. We do not provide more detailed timelines.
Fast Shipping
Priority shipping on all items that we sell.
Quality Products
Every Shifteck part is backed by a lifetime warranty.
Made in the USA
Shifteck is a USA manufacturer, not just a parts reseller.
Online Support
If you run into a problem, send us an email. We'll get you the help you need.
Corporate Address
Shifteck, LLC 
835 South Frank St
Sheridan, WY 82801
(Please note, we do not receive mail or packages to this address) 

Phone - 559-SHIFT-1-2 
(559-744-3812)

Email - Sales@Shifteck.com
Copyright © SHIFTECK All Right Reserved.